Put simply, a Planogram is a diagram or model indicating the placement of retail products in order to maximise sales. Done correctly, planogramming leads to consumers buying ten items, when they only visited your store for one. It represents the buying strategy that enables efficient sales and store operations in the store the planogram is applied to.
Planogramming allows for consistent brand messaging, consistent shopping experience for your consumers, and data-driven collaboration between your buying and merchandising teams.
There are some mis-conceptions around the creation and implementation of planograms. Firstly, planogramming is not just a 'set-up' tool for your initial store layout – it provides ongoing sales feedback, performance review opportunities and profit opportunity for retailers.
These are retailers of all sizes! Large retailers planogram consistently, and often have in-house planogrammers (see our training section for further information on how we can help you with this), however, small businesses can see even better results with a slower turn on product. We work with retailers of all sizes who are keen to optimize their available space, so please don't hesitate to get in touch.
OSP retail can not only use the retail software required, we manage, optimize and develop your plans, as well as training your employees to use planogramming software as a long-term solution.
There are three elements that go into effective planogramming.
The first is a Ranging tool. In retail, there is significant collaboration between buying and merchandising. Buyers strive to ensure the correct range is defined, and merchandising translate that to shelf stock in order to support sales.
Enter the planogram, enabling the buyer and merchandiser to work more efficiently, defining the correct range and meeting the available space in store. A planogrammer uses the range data they have defined using retail software to build a visual representation of a bay in store (including the exact fixtures and equipment available), and then places product on the shelves, assigning the correct volume (utilizing customer insight) and visual merchandising principles.
The buyer and merchandiser can then review the final plan before entering the next phase.
The second element is the Analytical tool. Once a planogram has been produced, the retailer has access to unique insights that determine the range and space available. The planogram shows not only which products retailers should be stocking, but also where exactly on the bay they should be stocked, using 'heat-mapping'. The use of real data to determine the mapping as opposed to generalized retail theory creates accurate solutions, and saves retailers wasted product or space.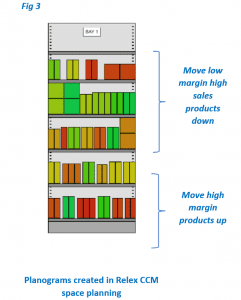 The final element behind planogramming is the Merchandising Instruction Manual.
From an operational perspective, your team in-store require clear instructions in order to interpret and implement the planogramming catalogue provided. This is known as the Merchandising Instruction Manual. We provide comprehensive ongoing support for your in-store teams to head office to ensure that you are satisfied with our work.