One of our mottos at OSP is 'Data Is King'. We know that both online and traditional retail are data rich, however the difficult part is using it correctly. We can help.
Whilst a traditional retailer cannot update their Point of Sale every time a consumer walks in the front door, online retailers have that advantage when a consumer clicks on their website. Online retailers depend on data to determine consumer specific advertising, social media and general marketing. In traditional retail however, we can replicate customers specific local needs on a shelf, based on previous sales data, using clustering, and building a retail range based on the results.
What is clustering?
To understand clustering, we must focus on 'Being Local'. We believe that this is major in retail at the moment, concentrating on the core needs of a particular consumer group, allowing retailers to stock appropriate ranges, thus minimizing wasted product.
Here at OSP, we use clustering solutions to identify purchasing patterns. The consultants use Cohesion, Separation and the number of Stores in a cluster to create up to twenty-five cluster schemes. The solution will complete multiple iterations to ensure the final ranked 'number one' cluster scheme is most accurate.
The key to clustering, is using our analysis effectively for the indexing of sub-categories, sectors and product assortments. Once the results are established, we ensure retailers identify the correct range for each store cluster, allowing you to maximise profit.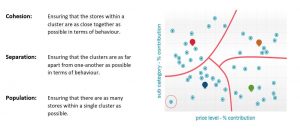 At OSP, we understand that other considerations come into play for your buying team, including brand deals, customer flow, equipment specifications and promotional sections, as well as accounting for local, regional and international products. We are here to make sure that your available profit is reached, whilst minimising the amount of product wasted. Better for head office, and better for the environment.
With significant experience from varying sectors in retail, OSP can deliver a fresh take, and help you take advantage of your sales data, by 'Being Local'.